USFunVideos: Pre-Roll & Video Single Pixel Advertising Fraud
Recently,
The Wall Street Journal
published an interesting article about single pixel advertising on the website USFunVideos.com. Besides the content, the website displayed several tiny websites, each the size of a single pixel on a computer screen.
Those tiny websites had barely any content but served up advertisements which were invisible to the naked eye.
The Whois details of USFunVideos.com reveal that the domain is registered to Malcom Dawn in Malaga, Spain but "Mr. Dawn" is unknown at the provided telephone number.
According to Mdot's team oneemedia.com is associated with the site but the researchers were unable to find additional information.
Does the trail really end here?
Digging deeper, we actually can link USFunVideos.com and the single pixel advertising incident to Creafi Online Media, an advertising company with offices in Seville – Marbella – Madrid | Spain, London | UK, Martin | Slovakia, Sliema | Malta, Los Angeles | USA, Sao Paulo | Brazil and Johannesburg | South Africa.
The registrant email of USFunVideos.com is daniel@guesswho.eu.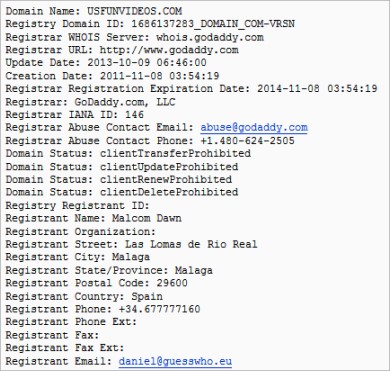 In the source code of USFunVideos.com there's a commented out iframe to ads.guesswho.eu.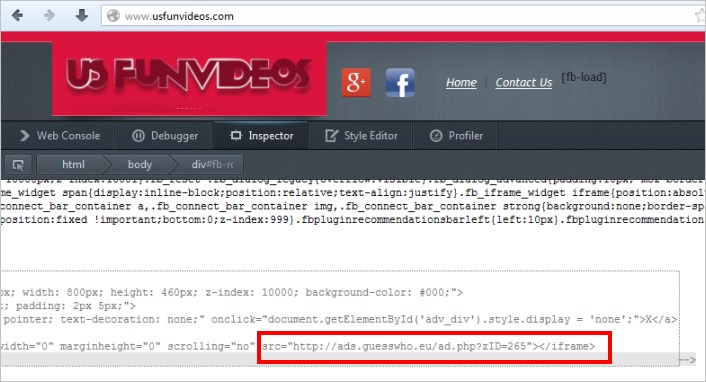 The registrant email of ads.guesswho.eu is daniel@guesswho.eu, the registrant name is Daniel Novak from Martin | Slovak Republic where Creafi Online Media has an office. "Daniel Novak" is associated with about 152 other domains.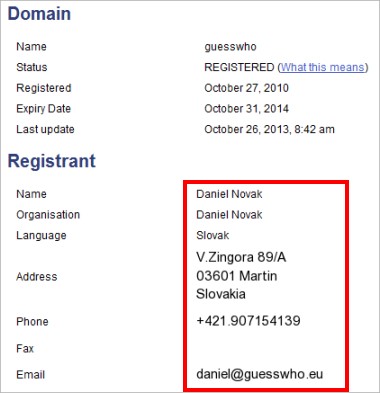 Daniel Novak is the CTO of Creafi Online Media in Martin | Slovakia.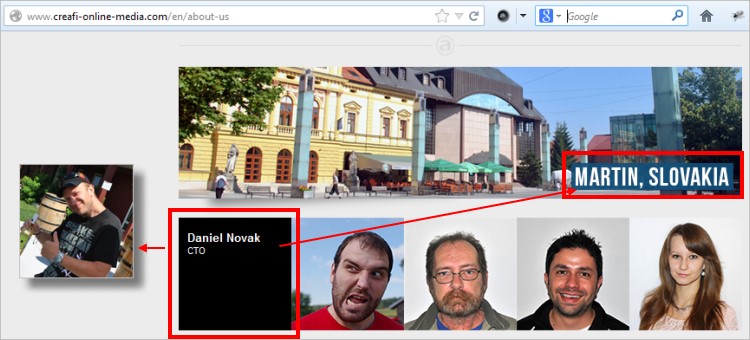 ads.guesswho.eu is an alias for www.srv3-creafi-online-media.com.

The Registry Tech ID for www.srv3-creafi-online-media.com is Jens Haxgart, Cierva16 in Marbella, Spain.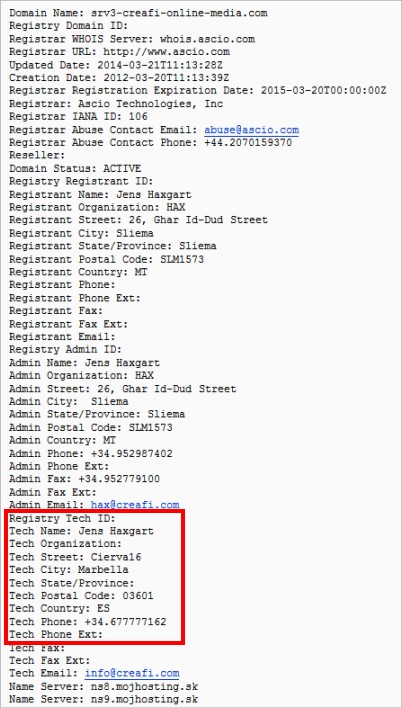 C/Juan de la Cierva 16 in Marbella, Spain is also an office of Creafi Online Media.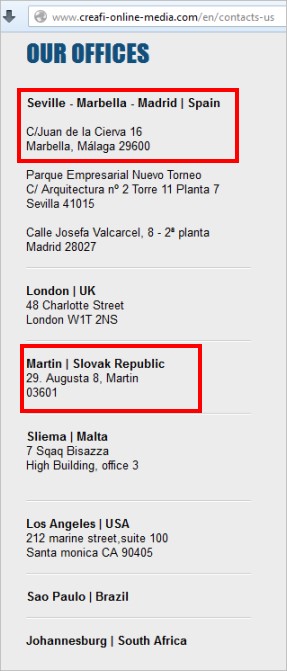 Creafi Online Media
Creafi Online Media is also a founding member of the Crazy4Media Group.
The Crazy4Media Group is made up of various companies specialised in different areas of the interactive marketing sector. Each company offers complementary functions and knowledge, including:
Creafi Online Media, Online and Mobile Advertising Network
Froggie Mobile Marketing, Mobile Marketing & Billing Agency
HaxHax, Premium RTB Partner for Display and Video on PC & Mobile
Source: IAB Europe
ads.creafi-online-media.com
The domain ads.creafi-online-media.com can be linked to Yahoo / Right Media.
X-RightMedia-Hostname: raptor0498.rm.ne1.yahoo.com
The domain ads.creafi-online-media.com is cited at Server Fault, possibly related to a click-fraud botnet and open proxy abuse.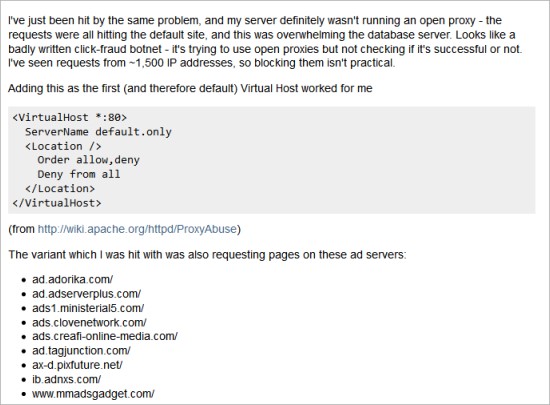 According to VirusTotal, several malware binaries are communicating with ads.creafi-online-media.com.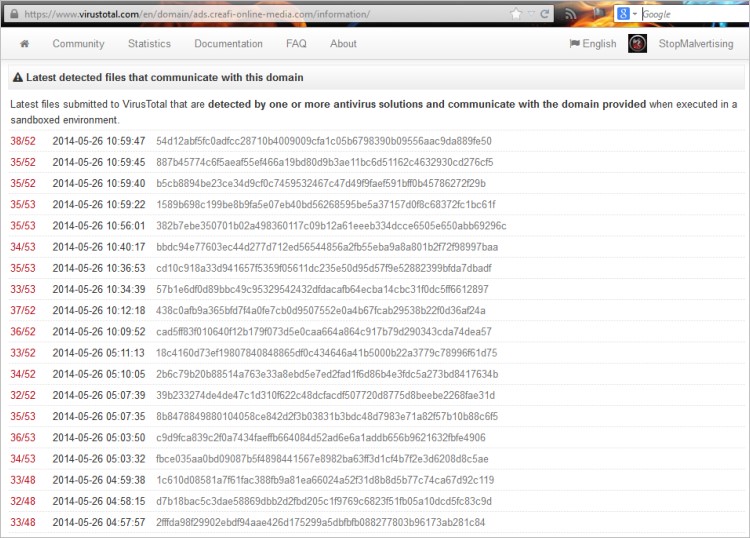 NS1.MOJHOSTING.SK
Reverse Name Server Lookup
4elements.sk | 4friends.sk | a-kustra.sk | accmanager.eu | accserver.eu | accsystems.eu | adsrv-s1.com | adsrv-s2.com | adsrv-s3.com | adsrv-s4.com | agenturadomino.com | agenturapf.sk | aloeveradrink.sk | alva.sk | alzbetka-no.sk | animaltv.hu | art-time.sk | asaauto.sk | ascorpsk.sk | atechbau.com | auto-moto-pneuservis.sk | autocambio.sk | avvocato.sk | bafer.sk | baksagarden.sk | barretro.sk | belhouse.sk | belmar.sk | best-football.org | bestenglish.sk | bestgoals.net | boba.sk | boraros2.eu | bratislava2011.sk | brent.sk | byvanicko.sk | cato.sk | cernobileturne.sk | chelemendik.sk | chemex-media.com | clovekprecloveka.sk | clreas.com | clubber.sk | clubbermedia.sk | computer-software-download.info | conser.eu | copa-media.com | corro.sk | creafi-online-media.co.uk | dadaconsult.sk | danoheriban.sk | datacar.sk | denkz.net | dermek.sk | dirtyharry.sk | dobre-rano.sk | dobrovolnik.sk | dolezite.sk | domaz.sk | domeny-webhosting.info | domsvitania.sk | doubleb.sk | durdovansky.sk | dusanschiffel.com | easysms.sk | ekoauditor.sk | ekoservis.sk | ellmedi.com | elprof.sk | elteq.sk | envysports.cz | eshop24.sk | externautomotive.com | faixas.net | fakturuj.sk | feketesolyom.sk | finallyproduction.com | fordcapri.sk | fscslovakia.sk | fullmoonparty.sk | fullservis.sk | funhax.com | fxpeon.com | galloway.sk | garderoba.sk | go4.sk | golfreport.sk | gossiptale.com | gpnet.eu | gpnet.sk | grade.sk | gravirovane.sk | greengroup.sk | gryphon.sk | guesswho.eu | habitus.sk | haxgart.com | haxhax.com | heddykeddy.com | hiconsulting.sk | hokejbal.sk | homosexualita.sk | hotelenchante.sk | hotelsmokovec.sk | hrykomunikacie.sk | hudacky.sk | iboard.sk | ideme.sk | imrichcar.sk | interaktivnatabula.sk | interrupcia.sk | istartup.sk | iveko.sk | jaw.sk | jjautomotive.eu | jkmertz.com | jmazan.sk | jurajtatar.com | kadako.sk | kakaoveboby.sk | kalabria.biz | katarinaknechtova.com | katarinaknechtova.sk | katkaknechtova.com | keselakova.sk | klimapo.sk | klonovanie.sk | kozenepenazenky.eu | kozenepenazenky.sk | krojovanebabiky.sk | kywitech.sk | laax.sk | lecristal.sk | ledit.sk | ledpoint.sk | likebreak.com | loma-media.com | lonelyplanet.sk | lucerna-tvrdosovce.com | magmedia.sk | makita-sk.sk | marencin.sk | marimex.sk | marioturnergolf.sk | marki-online.net | martinhorkavy.sk | marvelpit.sk | mas-com.sk | maurer.sk | mcm.sk | meditex-piestany.sk | merida-media.com | mobilemovietrailers.com | mojatvorba.sk | mojbazar.sk | mojeciele.sk | mojhosting.sk | mojshop.sk | monitorio.sk | mulheres-insanas.com.br | multi-gyn.sk | mvaace.sk | neonex.sk | netporadna.sk | new-music-downloads.info | ngoflos.sk | nigmae.net | nilland.com | nussy.sk | nuxbi.com | obadisaleh.com | octopusenergi.cz | odc.sk | oknoplast-jr.cz | olejko.sk | omikron-rk.sk | oneemedia.com | oneemedia.sk | ozvucenie.com | palisades.sk | peknamodra.sk | petrox.sk | pga.sk | pink-gossip.net | pink-maiden.com | pinkie.sk | pkplast.sk | plejsyapartmany.sk | plusshop.sk | pneumatshop.eu | poradenskapsychologicka.sk | prank-monkey.net | premiumpresent.sk | priateliazvierat.sk | profitelektro.sk | profitters.sk | progressivefr.com | provizny-system.sk | realizsportteam.sk | regiony.sk | reportgirl.com | rex-rotary.sk | rivals.sk | rltaxi.sk | rocco-digital-media.com | rokli.net | rovinka-park.eu | sajch.sk | salonsissi.sk | saning.sk | sappe.at | sappe.cz | sappe.sk | sappeeu.eu | sappeeurope.de | sappeeurope.eu | sarisancek.sk | savol.info | schwarz.sk | scooby.sk | senior.sk | senziwood.sk | servispraciek.com | setuphosting.net | sevcovic.sk | shockwomen.com | shopmagic.sk | shopmania.sk | siba.sk | sipox-media.com | skolajanos.sk | skvrk.sk | slovakiapromotion.com | slovakiapromotion.sk | slovmont.sk | sofis.sk | spermolado.com | sportdoor.cz | sportdoor.sk | sportiestore.com | squash-imet.sk | srv3-creafi-online-media.com | starlit.sk | stefanvrabec.sk | steridex.sk | streethockey.sk | studentservisbj.sk | stuzkova.com | stuzkove.com | superdefense.sk | svetnechtov.sk | szzp.sk | tampex.sk | tatra-travel.sk | terradeselinan.sk | thermastav.sk | thomas-dexter.com | towers.sk | trabel.sk | travnatekoberce.sk | tri-con.sk | umeleoplodnenie.sk | uniko.sk | urbancasuals.sk | usbestvideos.com | usfunvideos.com | ustreamvideo.com | videos4fun.net | vivanet.sk | vladimir-uhrin.sk | webmagic.sk | wildhorsesmc.sk | womenscandal.com | zahrada24.sk | zdravastrava.sk | zdravycaj.sk | zepter-media.com | zombotron.sk | zsapka.com
Other domains associated with daniel@guesswho.eu
www.usbestvideos.com | usbestgames.com | vstreamvideo.com | vstreamvideo2.com | vstreamvideo3.com
Hat tip to http://stopmalvertising.com/